We take your business personally
Technology

Consulting and

Implementation

Services
Technology can be overwhelming. Whether you are considering a complete accounting overhaul or a few small updates for your business, we are here to make it a seamless and stress-free process.
At Momentum, we're bringing transformational change to accounting…a digital, paperless, fully integrated, cloud-based accounting system.
The gap between high-performing businesses, and those that are not, is widening. 
Why? 
The ability to create value and competitive advantage through new fully digital accounting workflows is a game changer. 
This isn't incremental improvement, it's transformational and it's happening across all industries. It's time to get on board this digital wave.
The principles of accounting haven't changed, the tech that enables it has.
Momentum Accounting has a unique combination of accountants who love tech and techies who love accounting. We are constantly searching for new and better software solutions that streamline and accelerate accounting workflows, improve cash flow, and simplify cash management.   
Accounting tech tailored to your business.
Momentum Accounting is the cloud accounting solution for digital agency owners and professional service firms who want to run their businesses from anywhere. 
Our team of accounting and technology experts consult with you to help automate back-office operations using our vetted app partners so you can be confident in the accuracy of your data. 
We are experts at mapping, integrating, and synching all of the apps into a coherent and unified view of your financial performance.
You have direct and real-time access to all of your financial activity and information. 
You can run your financial operations remotely and are removed entirely from most back-end workflows. 
Momentum Accounting Technology Toolbox
We start with core accounting software — QuickBooks Online (QBO) or Xero (a Momentum favorite). This is the hub of your Momentum Solution. 
Then we go through all of the accounting functions and workflows and specify the best software tools for each. The Momentum magic happens when we put it all together – using the open API for QBO or Xero – and create an outsourced accounting solutions just for you.
Your Title Goes Here
Your content goes here. Edit or remove this text inline or in the module Content settings. You can also style every aspect of this content in the module Design settings and even apply custom CSS to this text in the module Advanced settings.
Accounting Software
Cloud-based software with open APIs for building integrated solutions.
If you're already on QBO and you like it, we'll build your solution around that. If you're starting from scratch or open to recommendations, we will use Xero as the hub. In either case, you will be working with a robust, open platform that enables integration across key accounting functions and workflows.
Accounts Payable
Spend 50% less time on accounts payable with complete control to review, approve, and pay bills when you want.
Now you can pay bills in four simple steps.
(Bill.com screen shots with captions -)
1. Capture, review and selectively approve bills.
2. Make strategic cash management decisions based on a full comprehension of what you owe to whom.
3. Pay with a click.
4. Sync with your main accounting software
Accounts Receivable
Get paid faster
We bring together everything that's required to accept payments electronically for hourly based professional services, SaaS and subscription businesses. 
We also help companies eliminate fraud, send invoices, receive and process payments (in days, not weeks or months). 
You'll always have a clear view of who has paid and who hasn't.
(screen shots with captions showing the Accounts Receivable workflow and benefits)
Ignition

Stripe

GoCardless
Employee Expense Management
A simplified, paperless method of tracking and charging expenses to projects and clients. Capture expense receipts with a photo, upload with client/job# or other identifying data, sync with client billing and/or employee reimbursement.
Time Tracking
Employee and contractor hours are logged against jobs and mapped into your invoicing system.
Payroll
Pay employees accurately, on time, every pay run. Once your employee data is in the system, Momentum takes care of the rest.
Banking
Online banking feeds sync directly into QuickBooks Online and Xero for real-time updating of your financial data.
Ultra-detailed transaction data for lightning-fast reconciliation, you always know where you stand and can make better, more informed financial decisions.
Give your business the momentum it needs to succeed.
With today's cloud-based tools for accounting, invoicing, and payment processing, Momentum Accounting is creating competitive advantage for its clients.
The result is a more predictable and steady cash flow along with substantial operational cost savings. Also, you no longer have to waste your valuable time on administrative tasks, so you can focus on activities that grow your business and strengthen client relationships.
Don't date yourself, date us.
Outdated methods are simply holding your business back. Technology is your friend, and Momentum helps you to embrace change.
We support and modernize your business with the latest technology.
Effortlessly implementing a payment processor and automating your invoices and invoice reminders will have you noticing an ease and improvement in your business. There are countless ways to include technology and our team will find the most productive, meaningful, and realistic ways to do so.
Analyze your current setup
Develop personalized tech stack consisting of current cloud-based apps that make sense for you
Simplify and streamline day-to-day financial tasks
Improve the overall operational efficiency of business
Better information.
Better decisions.
You can be confident that your numbers are compliant and being handled by a team focused solely on you. Momentum is always researching and incorporating the latest apps, ensuring your business is at the forefront of technology. Our app list is ever evolving, but currently includes: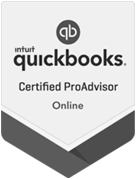 *We
clients who can collaborate on GSheets and the like!
Think of us as your accounting department in the cloud!
"If you need more (beyond just bookkeeping), then it's a no brainer, they are awesome and they will be there as you grow."
– Michael Ross, CEO of Lattice Wealth Management